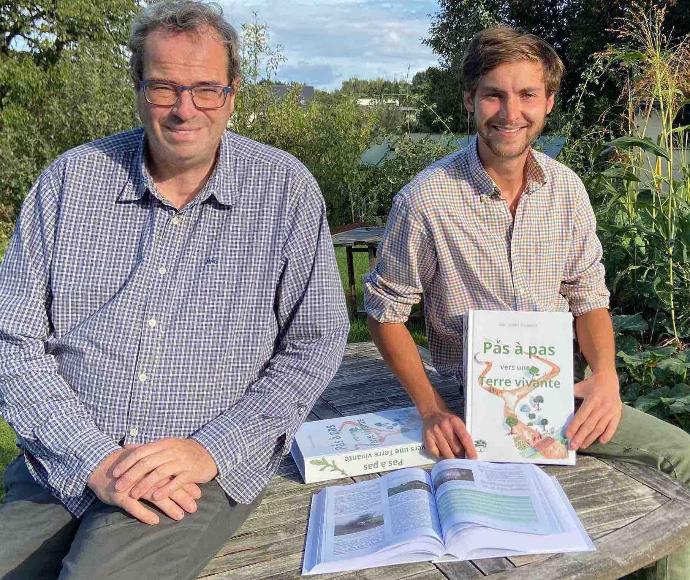 Florian t'Serstevens

The naturopathic permaculturist

Our skilled vegetable gardener fell into the pot when he was a child. First with his grandparents, one of whom was a farmer and the other an enthusiastic lover of ornamental plants and shrubs. Then he gradually found his way through a year of landscape architecture and finally five years of naturopathy at the School of Holistic Health. His permaculture motivation was carried by his studies, a natural and global approach to life, combining botany, wild plants, medicinal plants and connection to the earth.
In 2015, Florian completed his course at Terre & Conscience by following the long training in permaculture
In 2018, he trained at the Bec Hellouin farm for market gardening and at the permaculture school of the Desnié farm for advanced design.
In 2019, he completed the university certificate in urban and pre-urban agriculture at the University of Liège (ULg)-Gembloux Agro-Bio Tech.

Gery de Broqueville

The philosopher-biodynamist-energeticist

Co-founder of the Belgian association ASMAE, our trained philosopher and historian grew up in the middle of the woods and a Belgian vineyard, driven by the desire to produce a wine that respects the vines and the land. He naturally followed the long training course in biodynamics at Terre & Conscience, in 2016.
With his 10 years of experience in viticulture and 38 years in sustainable development projects in Africa, Géry naturally joined the team. He rolled up his sleeves to dip his hands in the humus. In 2018, Géry trained with Pierre Rabhi's Terre et Humanisme to reproduce his own seeds. He trained with Loïc Etcheberry (Pyrenees) and put the garden under electroculture and magnetic influence.
In 2019, he also followed the university certificate in urban and peri-urban agriculture at the University of Liège (ULg) - Gembloux Agro-Bio Tech. He finished the year with a training in electroculture and energy agriculture at Yannick Van Doorne, in ALsace.

Your Dynamic Snippet will be displayed here... This message is displayed because you did not provided both a filter and a template to use.